Marketing Automation enables auto retailers to transform their customer experience
Automated marketing can help dealers and distributors respond to the changing business dynamics of the car buyers of the future. Car buyers are now inundated with more information and content than ever before, how can your business differentiate and cut through the noise? Your competitors are using new tools to reach their target market, how can you engage and hold their attention? What tactics or strategy will you deploy if sales volumes are down?
Auto retail will move from a transaction based sales model to a customer-centric approach to improve customer loyalty and adapt to changing consumer needs. According to recent studies only 17 car buyers out of 4,000, less than 1%, chose the current process as their ideal experience.
Today, the automotive sector is undergoing a huge transformation. Here at Rhino, we can help you build a smarter approach to customer acquisition, retention and after-sales service. We can facilitate improved brand experiences, provide solutions to everyday problems that helps to improve your business performance.

Campaign Plan
Plan campaigns cross-channel that encourage meaningful customer experiences.

Engage Customers
Personalise communications to engage customers with relevant offers automatically managed and at scale.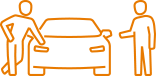 Increase Footfall
Manage digital content from a single platform including email and social media to increase footfall.