Reach your customers with the right marketing strategy.
Consumers today, are inundated with more information and content than ever before, so it is vital to create an omni-channel marketing strategy that reaches your customers through every channel with which they engage. Naturally, this means one size does not fit all and it is important to expertly plan the approach.
Rhino has been creating strategies that engage consumers for over two decades. Our focus remains true today as it did at our origin; to create campaigns and strategies that deliver sales to our customers.
We understand, after all, that it is ultimately sales results that matter most to marketers.
We love a well timed targeted approach!
It's a strange reality in today's age of 'marketing overload' that we are all consumers and by and large, we all love to be wooed by our favourite brands.
The trick to to create a strategy that makes consumers want to engage with and ultimately buy from, your brand. This is about 'relevancy' and 'front of mind'. Rhino can help create a strategy that is both. A well planned strategy communicates effectively to a business's customers and through the most effective channels for your audience to generate the best ROI. In our world, this is rarely 'Above the Line' but usually through more targeted and relevant direct mail and digital channels.
This creates best value for a client's marketing budget. Why not discuss your marketing needs with us?

Campaign Plan
Plan campaigns cross-channel that encourage meaningful customer experiences.

Engage Customers
Personalise communications to engage customers with relevant offers automatically managed and at scale.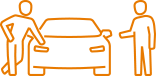 Increase Footfall
Manage digital content from a single platform including email and social media to increase footfall.
Interested in our marketing services?
To request more information about Rhino's Marketing services, call us today on 0161 330 1661 or complete your details below.