Help customers find your website.
Let's make it easy for customers to find your site. Be it on mobile or desktop, we all search for products and services online. To be found 'organically' in a Search Engine like Google or Bing, your website needs to be technically optimised and relevant to your audience.
Rhino Search services offer proven industry-leading results so your website can be found in online searches.
Organic Search Engine Optimisation (SEO), often combined with Google Advertising, across any device, desktop, tablet or mobile is a key requirement of any digital marketing strategy. Unlike Paid Search, Organic Search cannot be bought (from Google), but it can be earned. This is where Rhino can help you with expert resources who take pride in everything they do.

Consulting & Planning
Search Engine Optimisation services require a consultative approach working backwards from your objectives and budgets to ensure you get the maximum ROI from all digital traffic sources.

Local & National SEO
Design and implement a national or local SEO strategy so you can attract visitors against competitor profiles and customer segments.

Optimised Digital Pipeline
Optimise website traffic from all digital sources to improve results in SEO / Google Advertising / AdWords / Social Media / Re Marketing.

Detailed Analytics
Detailed website management information that proves the business case with competitor analysis and Google Analytics.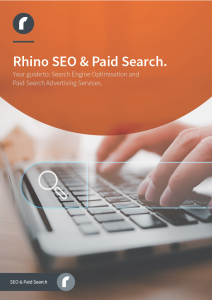 Download Available
Your guide to search marketing.
Want to know more about SEO?
For advice or information about Rhino Search services, call us today on 0161 330 1661 or click below.